Ceramics has a modulus of elasticity higher than that of high carbon chrome bearing steel. In the ceramic bearing, therefore, less deformation on the rolling elements (balls or rollers) generates higher stress at the contact point between the rolling element and raceway, when compared to a steel bearing.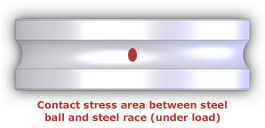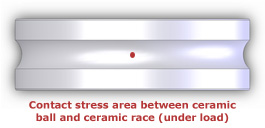 Therefore, the contact stress between rolling elements and races of ceramic bearing would be significantly higher than that of steel bearing, under the same amount of load. The following table shows the evaluation of load ratings of ceramic bearings versus steel bearings.
| | | | |
| --- | --- | --- | --- |
| Item | Dynamic Load Rating | Static Load Rating | Impact Load Capacity |
| Full ceramic bearing | 「80% of steel bearing | 「80% of steel bearing | 「10-20% of steel bearing |
| Hybrid ceramic bearing | 「80% of steel bearing | 「70% of steel bearing | 「70% of steel bearing |
The load capacity of ceramic bearings is accordingly decreasing when working temperature is increasing. HSC suggests choosing a larger load rating capacity bearing when using a full ceramic bearing for your application.
Due to the brittleness of ceramics, full ceramic bearings are not capabale of withstanding too much impact load. The outer races or inner races will generate cracks or even suddenly break under a certain amount of impact load.
Please consult HSC to learn more about the specific load ratings of a specific bearing size.